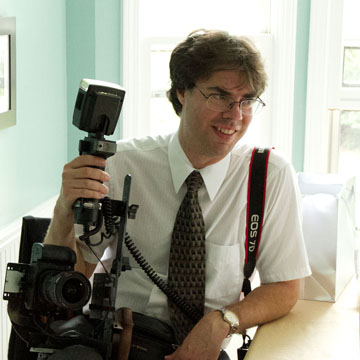 People often ask me, "How did you get into the photography business?" It began innocently
enough; my parents bought me a 35mm Pentax camera as a graduation gift and I've been hooked ever since.
After studying at RIT and working in the printing industry, I began photographing weddings
because I knew my way around a camera and some friends asked if I'd photograph their big day
(pretty nice to have such confident friends!).
Fast forward to the year 2000; I was able to merge my love of print design
and photography—combining the two and opening my own professional photography studio
@ 1580 Ridge Road, Webster, NY- just east of the village of Webster.
The most often asked question couples have is, "Have you shot at (insert wedding venue of choice here)?
My wife and I sat down and listed all the locations I have photographed and discovered, I've been everywhere
in the Greater Rochester/Finger Lakes Area! I have found hidden treasures for couples that they didn't
know existed and of course I always travel to special places that hold great significance to our wedding clients.
I will work with you to create wedding portraits that you will cherish for years to come!
TESTIMONIALS:
Dear Jay,
Thank you so much for the wonderful work you did for our wedding. The
album is truly amazing and everyone comments on how they have never seen
anything like it and that you are a real artist. You've put our wedding day
into pictures so beautifully that we'll have for a lifetime! Jodi and Ashley
Hi Jay, I LOVE the pictures you did for Dustin and Stephany. Everyone
I have shown them to has been ecstatic about how beautiful they are.
You did a wonderful job of capturing this most special event. Thanks for
everything!! – Arlie
Jay!!
The pictures are INCREDIBLE! They have gone above and beyond anything
I ever imagined. I am having such a hard time deciding which pictures I
want in my big book. This is not an easy task. Joe and I were so pleased
with all of your work. You made the picture process fun, fast, and creative.
Joe is not big on taking pictures but he said he would do it again if Jay
was the photographer.
Nicole and Joe
Jay,
Than You So MUCH for the AWESOME JOB you did for us on our special day.
From the planning, the getting ready, the ceremony, to the reception.
You totally captured all of the beautiful moments so perfectly!
We knew from the start, that hiring you was the right thing, and man, were we right 🙂 You Rock!
Thank You, Thank You!
Sincerely – Mark and Kaitlyn
Jay,
Thank you so much for helping to capture the memories of our special day.
You made everything so easy and comfortable for us and we appreciate everything!
Sincerely – Dan & Jackie
Jay – The pictures are fantastic! Thank you SO much for everything – it is exactly
what we wanted, We will definitely recommend you to anyone we know looking for a photographer,
so please feel free to ask us for a reference any time. Nicole and Mike 🙂
Jay – Thank You for everything. We enjoyed working with you you. It was nice talking and getting to know you
– sorry I got your name confused a couple hundred times. Thanks for making our day enjoyable because
we didn't have to worry about how the pics would look! – Jeremy & Jessica