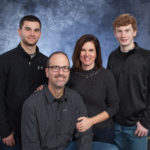 There are three steps in the process of family portrait photography:
1. Photography session
2. Previews – view all the photos taken and decide your favorites
3. Order retouched portraits as prints and digital files
60 minute "Extended Family Portrait" – $129.99
Perfect for several generations of family members. Includes multiple group arrangements and individual portraits.
30 minute Family Session – $89.99
Plenty of time for variety. Includes multiple settings, poses and individual portraits.
Couples / Engagement – $79.99
30 minute session for couples, or indoor only family groups up to five people.
Includes multiple settings, poses and individual portraits.
Singles – $49.99
10 minute session perfect for one person, formal or casual, one outfit, and approximately 12 images to choose from.
Location Portraits – $180 per hour
One hour session at a location you choose within 30 minutes of the studio.
Preview Options:
● Digital previews on CD or DropBox
Ready within 1-2 days $50 order deposit required.
Credit deposit towards print orders within 30 days of session
● (or) IN-Studio Previewing Session
60 minute viewing appointment available after 2 days, NO DEPOSIT
Family Print Packages:
At Palmer Photography we take pride in providing reasonable and flexible print packages
to fit a variety of client needs.
Build on simple packages or Create your own package by purchasing singles prints of your choice.
Orders can be placed by appointment here at the studio, or by phone, email, fax, and mail.
Click Here to receive our Family Portrait Pricing Guide with full details for Digital Portrait Collections, Prints, Albums, Collages, Wall Size Canvas, and more!
Collage orders are best done here at the studio, so we can layout and preview your selections together. We are here to help you select favorites and sorting out the best package and prices – don't hesitate to contact us for an ordering appointment!
Finished prints include retouching of blemishes, and skin enhancements.